SELMA "Hacking Hate" hackathon 2018 in Berlin
The SELMA "Hacking Hate" hackathon was a two-day event that brought together young people, teachers, parents, and other professionals and carers to work on innovative (tech) tools and solutions to "hack" online hate speech. It took place on 5 and 6 December 2018 at the Facebook Digital Learning Centre in Berlin.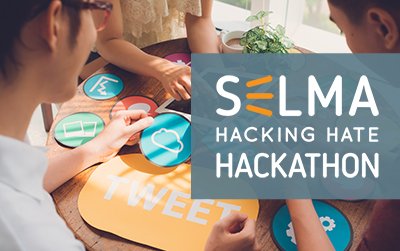 In June 2018, we invited young people (15 to 18 years old) from across Europe to team up with each other, involving at least one adult (a teacher, youth worker, parent or other carer), and submit an innovative idea to prevent or remediate online hate speech. Ideas ranged from concrete technological solutions (a platform, a mobile app or a new type of design standards), to better counselling and reporting mechanisms, education programmes, awareness campaigns, or any other ground-breaking strategy applicants could think of.
Submitted ideas were evaluated by SELMA partners based on their creativity, innovativeness, feasibility, and level of maturity. As a result, six teams were invited to take part in the hackathon in Berlin. There, they learned new skills and had time to exchange their views and fresh ideas with young people from other European countries, while further developing their plans to hack online hate. They also got support from inspiring experts in the field. And they pitched their final concept in front of an international jury, having the chance of winning the SELMA "Hacking Hate" award.
Following the first round of our "Hacking Hate" competition, the six winning teams which participated in the hackathon in Berlin were the following:
Brainy Titans (Italy)
Digital Vikings (Denmark)
Hatebusters (Greece)
L.A.D (United Kingdom)
Hate Defuse (United Kingdom)
Stop Bullying (Germany)
Digital Vikings won the hackathon with a fair game platform idea!
For further questions, contact us at info@hackinghate.eu.