Pathway 3: Educators new to working with SEL approach
In this section, we suggest a pathway for educators approaching this subject area for the first time when putting SELMA into practice in your classroom or school. Please note that this is by no means restrictive; SELMA has been designed as an open and flexible framework which you can adapt to the needs, level and interests of the group(s) you work with. The SELMA journey articulated below has been developed for illustrative purposes, to give you a suggested 'way in' to the toolkit if you're not sure where to start. However, we would certainly encourage you to explore the toolkit and use it creatively!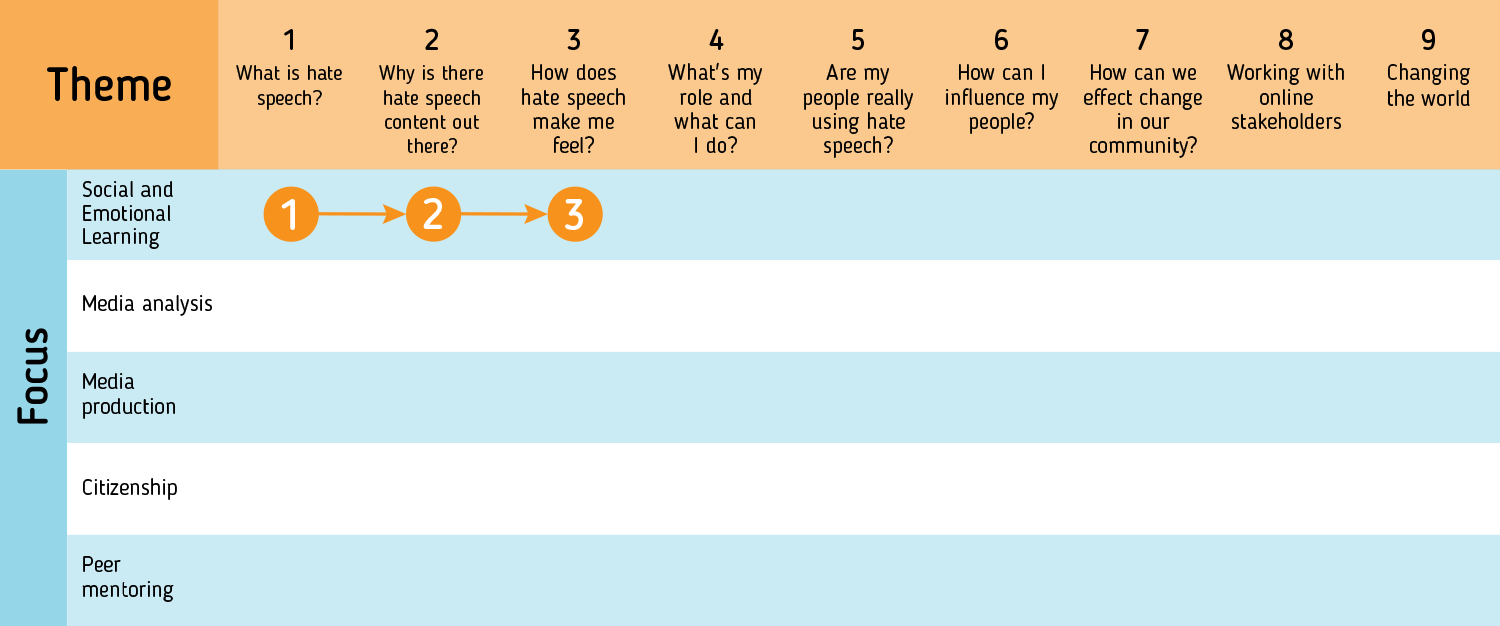 Step 1: Building an emotional vocabulary
The 'Theme 1' 'SEL' concepts come from the RULER programme from Yale Centre for Emotional Intelligence and part of a wider set of materials to create positive cultural climates within education settings.
Use the opening questions in the Toolkit to explore what children already know and to set the tone for the following sessions.
Naming and sorting emotions has no direct association with hate speech but introduces students to the SEL concepts of sentiment (positive/negative) and energy (intensity) of emotions and maps useful vocabulary to those feelings. This begins to build more sophisticated routes for expression when students are later asked to feedback on how certain scenarios make them feel.
This can also be used in conjunction with the Matching emotions to hate speech exercise that matches that emotional vocabulary to abstract examples of hate speech.
Step 2: Exploring stereotypes and making assumptions
The 'SEL' section in 'Theme 2' builds on the previous activity offering opportunities for students to explore how to describe emotions connected with perceived stereotypes.
This explores how certain images and messages make us feel and how our own temperament and culture often affect how we respond. Begin by watching the People Like You video that places students own selves into media headlines and then work through the scenario images in Guess the Protagonist to further explore how we make assumptions based on character and stereotype.
Step 3: Regulating and understanding personal emotions and responses to hate speech
The 'Theme 3' 'SEL' activities Take a Meta-moment and How Hurtful Can it Be? explore the concepts around metacognition; giving oneself time to consider a response and simple strategies to regulate initial feelings when first exposed to hate speech, either as an observer or recipient. They include opportunities to role play conversations as a class group.
Use the guiding questions from The toolkit to set the tone and shape those resultant student conversations.
Step 4: Where next?
Revisit the Media Analysis sections of Themes 2 and 3 to develop how the description and regulation of emotions can be applied to examples of online hate speech.